Description
With your little bundle of joy spending a lot of time asleep, you may wish to have her/him with you as you go about your day and one of the best ways to do so is using a moses basket. Foryourlittleone wicker basket boasts a lightweight design and comes equipped with durable handles, so you can easily move around with them. This woven moses basket comes packed with a firm mattress and a super cosy space-tec padding that will help soothe your precious child to sleep. It features a waffle-pattern exterior dressing which is sure to add a dash of glam whilst keeping your sweet child cosy. The moses basket coverlet is tailored with tear-resistant cotton and polyester materials that resist general wear and can be easily washed in a machine. This universal wicker basket can be kept on a stand or bed, whatever meets your requirements.
Key Features:
Universal Wicker Basket
Includes waffle pattern bedding for classy appeal
Can be paired with wooden rocking stand (sold separately)
Machine-washable breathable fabrics (tailored with cotton and polyester blend)
Includes dressing, quilt, hood, hypo-allergenic mattress, handwoven space-tec padding
Complies with latest EU standard EN 1466:2014+AC:2015
Specifications:
Wicker Baskets = 83cm (L) x 49cm (W)
Mattress= 66cm (L), 29cm


Wicker Moses Basket Manual
Download the instruction manual PDF using the link below.
IMPORTANT — PLEASE READ THE INSTRUCTIONS CAREFULLY BEFORE USE AND KEEP FOR FUTURE REFERENCE.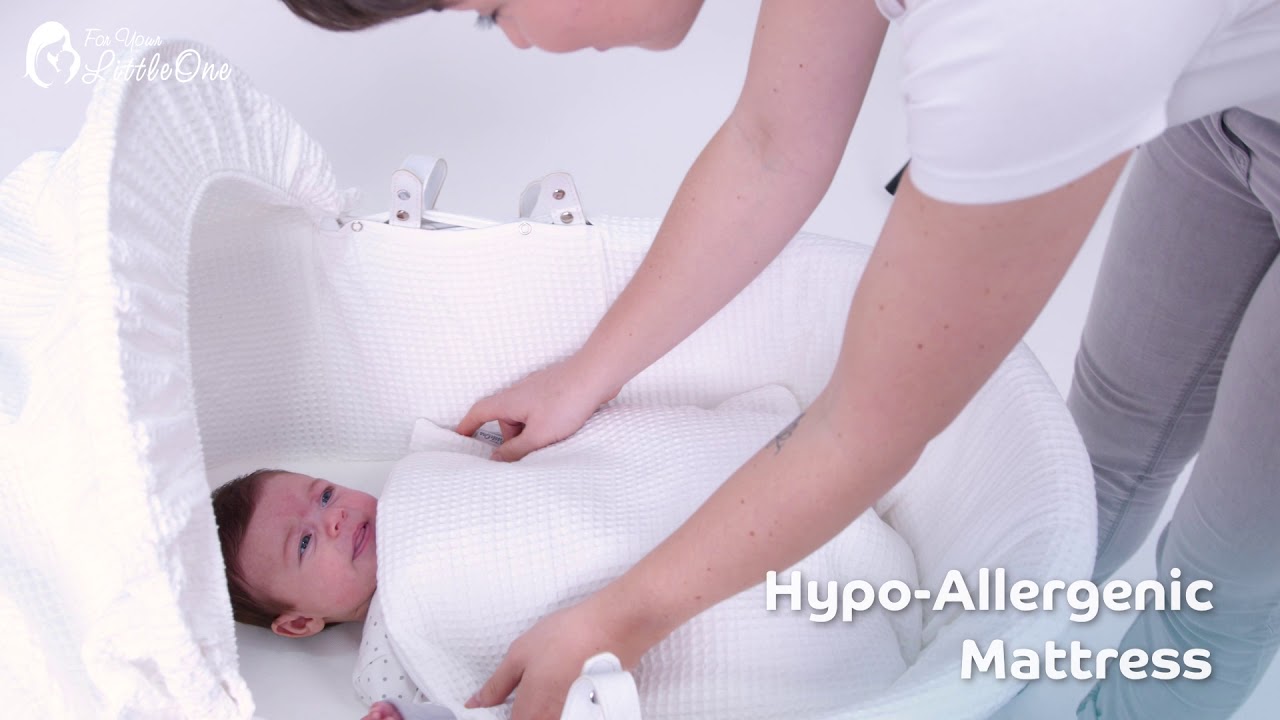 Payment & Security
Your payment information is processed securely. We do not store credit card details nor have access to your credit card information.
I would love to give a good review. But i have sent an Email because i bought moses basket and white stand together. I have only recieved the basket and its a present for my nice regards E Allan.
Great quality Moses basket perfect for newborn
Baby crib
My crib is beautiful. But I phoned you as I got no stand for it I thought I ordered one with a stand . I phoned you on Monday still waiting on a phone call back . But my crib is beautiful just a shame about the crib hope you can help xxxx
Moses Basket
Was very pleased with Moses Basket. Materials are very soft and cosy and basket has plenty space, I've seen many that are very small. We look forward to putting our little bundle of joy in it very soon.
Okay
Nice basket but didn't realise it didn't come with the stand also . And I'm not sure where I can buy a stand for this particular basket