Description
Get this multi-functional turquoise tricycle for your little one for a comfortable commute and encourage her/him to ride independently if wanted. The foryourlittleone trike functions as a stroller as well as a tricycle and lets you control its movements with ease. It can be used as a buggy for your nine-month-old and turned into a tricycle as he/she grows. One of the characteristics of this baby tricycle is the linked handlebar, which allows parents to gain comprehensive control. This multifunctional trike features foam accented handle bar, simple rear brake system and carry bag for parents convenience along with a lap belt harness, expandable hood and foldable footrest for child's convenience.
Functionality:
Suitable from 9 months up to 5 years of age
Multi-functional Design - Can be used as a stroller or bike (detachable parent handle, guard rail, hood)
Puncture-resistant EVA foam wheels for an all-terrain safe commute
Also Parent-facing
Free-wheel function- allows the toddler to peddle independently
Convenience:
Height-adjustable parent handles for steering comfort.
EVA foam covered handles that offer a comfortable grip
Foldable hood with extension for protection against elements
Safety:
Lap belt harness 
Guard rail for additional protection (can be removed whenever required)
Rear brakes will prevent the trike from moving, allowing your child to safely get in/out
Linked handles bars implies parents have full control over the tricycle
Tested and approved in accordance with European safety standards EN 71-1.
Accessories:
Child handlebar is equipped with a bell
Durable bag for keeping smartphones, nitty-gritty items - attaches to parent handlebar
Front and rear baskets
Product Dimensions:
Tricycle Size (LxWxH) : 108cmx52.5cmx97cm
Tricycle Weight: 8 kg 
Handlebar Height at highest setting 97cm
Handlebar Height at lowest setting 94cm
Instruction Manual:
Assembly Video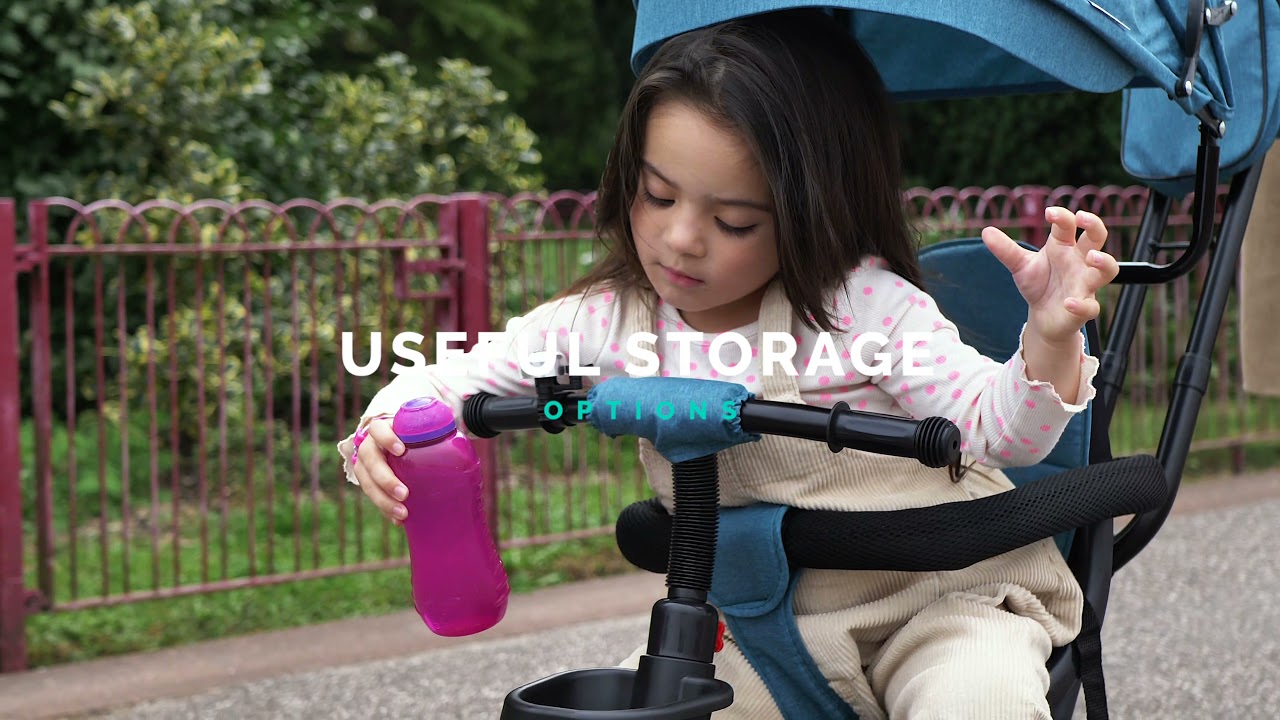 Payment & Security
Your payment information is processed securely. We do not store credit card details nor have access to your credit card information.
Other Customers Were Interested In
Not received goods
I haven't received my goods yet
Xmas gift
I can't really say yet as I haven't even opened the box yet as it's a Xmas present
Christmas gift
We haven't put it up yet due to it being a Xmas gift, but it packed well
Shocking
Absolutely shocking service waited 3 weeks on the item then informed it was lost in delivery then none in stock will deffo not use again poor service
Foryourlittleone Trike V3 - Pink