Description
The MIMI Kinderkraft Bouncer will have your little one entertained and safe while you get some much-needed rest or get some things done around the house. This bouncer can be easily switched to any position and can be rocked or set in a stable position. Ideal for use from birth up to 18kg, this bouncer is a must-have for any parent.
Advantages
Functionality:
Natural swaying – your baby sways on his own thanks to natural body movements. You can also rock your little one gently on your own.
Development – swaying develops fine motor skills and balance. Swaying also promotes proper rest and relaxation for your baby.
Toy bar – 2 hanging toys will interest the baby and make his time more pleasant. They encourage him to stretch out his arms and practice his grip.
Scandinavian design – the bouncer fits perfectly into any interior. It will look beautiful in flats decorated in various styles.
Minimalist solutions – they won't over-stimulate your baby and will help him calm down.
Comfort:
3-stage adjustable backrest – easily choose the right position for your baby. Adjust the setting to the weight and needs of your baby.
Adjustable seat – the seat distributes the child's weight evenly. The child's spine aligns naturally, supporting the correct posture of the child.
Ideal for travelling – the bouncer is very light and extremely easy to fold up. You can take it with you on every outing.
Soft material – the bouncer is covered with pleasant to the touch fabric. It can be washed in the washing machine at 30 degrees.
Quick-drying fabric – dries in just a few hours. Wash the fabric in the evening and in the morning the bouncer will be ready for your daily playtime!
Safety:
3-point safety harness – you can adjust the harness to fit your baby. They have a wide, soft cover to protect your baby's delicate legs.
Stable construction – MIMI bouncer has a wide base, which makes the construction extremely stable. The baby will be safe at all times.
Non-slip elements – prevent the bouncer from sliding while swaying and protect the floor from scratches.
Standards – MIMI complies with the European standard EN 12790 for baby bouncers.
Details
Material:
frame: aluminium
fabric: polyester
Dimensions
Unfolded:
Length: 72 cm
Height from the floor: 58, 5/61, 5/64, 5 cm
Width: 40 cm
Folded:
Length: 82 cm
Width: 40 cm
Height: 19 cm
Seat dimensions: W 28 cm x D 15 cm
Backrest dimensions: H 46.5 cm x W 31 cm
Weight: 2.35 kg
Packaging dimensions / weight: 47 x 11 x 82 cm / 2.75 kg
Machine washable: yes, 30 degrees
For children: from birth to 9 kg (or when the child starts to sit up)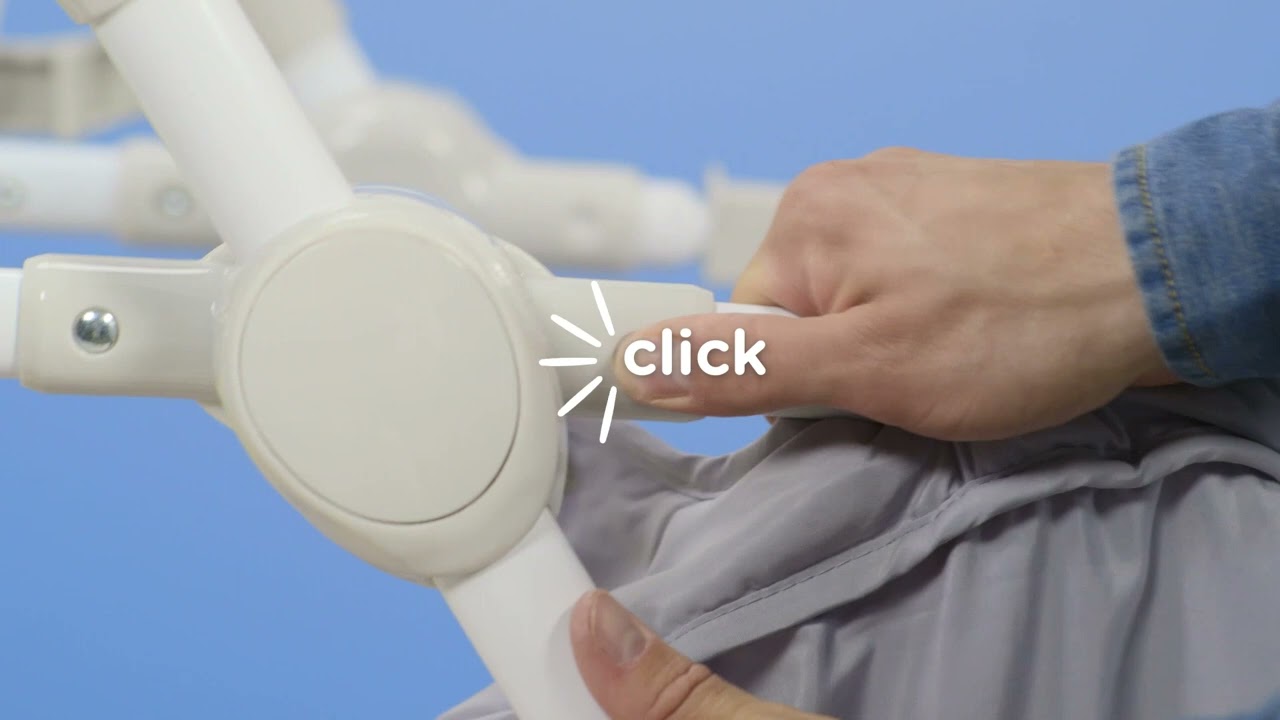 Payment & Security
Your payment information is processed securely. We do not store credit card details nor have access to your credit card information.
Lovely little bouncer
This was bought ready for the birth of our new baby grandson. So not used yet,but I'm sure it will be well used. We chose it for all of the functions that it has. We are not disappointed at all. It's well made and looks great. It took me a long time to research all of the bouncers that are on offer and I'm pleased I chose this one .